Carton Box Printing Slotting Die Cutting Machine

Pizza Box Flexo Printing Machine Features:
·This printing slotter machine is designed and made to high quality and safety standard,with the advantages of high speed, auto control and quick order shift.
·Auto high quality materials and parts.
·Well hardened and ground transmission gears, hardness more than 60(HRC).
·Auto zero return and auto reset.
·All gaps between cylinders and rollers are computerized and/or motorized control.
·Vacuum transfer system used in all printing sections.
·Use expansion sets tight link to reduce abrasion of the shaft,keep precision of the machine for long years.
·All cylinders and rollers are chromed plated for ideal hardness.
·PLC control system with touch screen control.
·Able to save order,speed up the order shift.
·All electronic and pneumatic components are with European standards.
·Able to facilitate the production management.
Printing Machine with Cardboard Specification:
Data/Model

900×2000

1200×2000

1200×2400

1400×2400

1600×2800

Max. mechanic speed(pcs/min)

250

250

250

220

180

Max. feeding size(mm)

880×2000

1180×2000

1180×2400

1380×2400

1570×2800

Min. feeding size(mm)

300×650

350×750

350×750

380×750

450×850

Skip feeding(mm)

1100×2000

1500×2000

1500×2400

1700×2400

1900×2800

Max. printing area(mm)

800×2000

1150×2000

1150×2400

1320×2400

1540×2800

Max. thickness of board(mm)

7.2

7.2

7.2

7.2

7.2

Min.slotting space(mm) slotting type L(mm)

240×80×240×80

250×90×250×90

250×90×250×90

260×90×260×90

260×100×260×100

Max. slot depth(mm)

250

320

320

320

560

Max. thickness of board(mm)

12

12

12

12

12

Dimension(L×W×H)(mm)T-

F-

11659×4240×3200

12079×4240×3200

13015×4800×3500

13550×4400×3500

13015×4800×3500

13550×4800×3500

13570×4820×3500

14208×4820×3500

14021×5220×3500

14701×5220×3500
Printing Machine for Corrugated Board Advantages:
1. CNC control system (Intelligent Control)
2. Environmental Protection and Energy Saving, use washable ink;
3. Satisfy the needs for exquisite printing in both sides, also be able to die-cut at the same time. It is specially suit for products that have personalized or anti-fake requirements.
Our Research and Development:
KESHENGLONG has a perfect Research and Development system, and owns a high level R&D team, leading capability of independent innovation, and complete producing, processing and manufacturing capability. We has Full computer gantry boring and milling machining center, CNC pentahedron boring and milling machine, 5 meter grinding machine etc., more than 200 set of processing equipment. If you are interested in HD flexo printing slotting machine, Contact us now!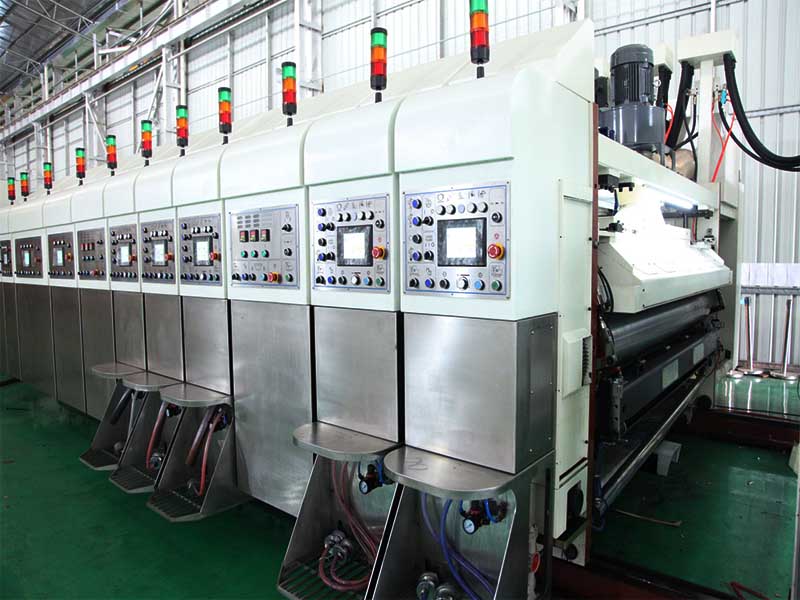 We are professional carton packing machine manufacturer, specialized in manufacturing carton printing machinery and carton packaging machinery over 20 years. You can tell us your needs, we can give you wonderful solution!